Home
Talk

0
249pages on
this wiki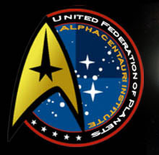 Welcome to the Alpha Centauri Institute
Edit
The Alpha Centauri Institute is a Role Playing guild for Cryptic's MMO: Star Trek Online.
We are a group of players wishing to bring a fun yet structured and authentic Star Trek role playing experience into Cryptic's new MMO. The Alpha Centauri Institute itself is a Starfleet controlled private organization that works heavily with fringe area science and technology recovered from Captain Janeway's trip into the Delta Quadrant. Originally, the Alpha Centauri Institute was a privatized research and exploration foundation that had multiple successful missions in the early 23rd and 24th centuries. After (then) Captain Janeway returned from the Delta Quadrant, ACI requested access to information that she uncovered during her 7 year expedition. Assessing information quickly and with great success, the ACI proved its worth to Starfleet in the years following the Voyager's return. Many advanced ships deployed in the 25th century would not be operable without the work the ACI completed. Starfleet began to notice the ACI's quick thinking members and expressed interest in it after ACI completed its work on the Delta Quadrant material. After being absorbed by Starfleet in 2386, the Alpha Centauri Institute shifted from an exploratory group of private scientists to a full fledged Starfleet operated division, full of Officers who wished to get their hands on advanced technology before the rest of Starfleet. The ACI has been granted clearance for its own private "military guard" which both Starfleet officers and non-Starfleet officers are a part of. The ACI Guard is deployed with experimental technology that future Starfleet ships of the line may never even see. Requesting a transfer into the ACI is a tricky process but advancing through its ranks is quite rewarding. Members of ACI can make great connections in Starfleet and gain lifelong friends who share their interest in exploration and advanced technology.
Mission Statement
Edit
Established in the late 21st Century, the ACI was founded as The American Continent Institute on the principles of Manifest Destiny and adventure, two key attributes that drove Americans westward during the 19th century. A think tank of multicultural scientists and engineers from diverse backgrounds began funding their then "small pet project" in hopes of spurring on a new age of exploration and colonization throughout the galaxy. It later changed its name to The Alpha Centauri Institute in the 23rd century to reflect a non-Earth centric viewpoint, and moved its head quarters to a starbase orbiting the Alpha Centauri IV planetoid.
Over time, the membership roster swelled and the Institute's role expanded. It now is a leader among Starfleet organization in promoting friendship among the various races through shared technology use and research. In recent years, the mission statement of the ACI has expanded to included a large Diplomatic Corps as well as an extensive, and tested, group of tactical officers known as the Guard.
In its state today, the ACI is a Starfleet sanctioned Institute with members of hundreds of races across various cultural and political backgrounds. All of these beings are brought together by a common goal: the advancement of technology and the extension of peaceful cooperation throughout the quadrant.
(See ACI History)
Board of Directors and Department Heads
Edit
Information on our current fleet command structure and department heads may be found in our Ranks & Officer Position page.
Latest activity
Edit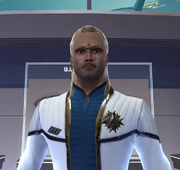 Ambassador Ehou Asnov
Asnov is a Bajoran Starfleet Diplomat assinged to the Alpha Centauri Institute Office of Foreign Affairs.  Born on Bajor toward the end of the Cardassian Occupation, Asnov's young life was that of turmoil and violence.  After the Occupation Asnov was left with no family of his own to raise him, so he was taken to an orphanage run by the Federation.  During his time at the orphanage he got the chance to learn more about the greater galaxy and the Federation.  As soon as he was able he enlisted in Starfleet as a crewman marine.  For 10 years he served valiently as an enlisted soldier even earning a few decorations for service.  Soon an opportunity arised for him to excell, he applied for transfer to the U.S.S. Typhon. (http://memory-beta.wikia.com/wiki/USS_Typhon) under the command of Captain Worf.  There he was assigned to a mobile infantry unit as a combat medic.  This allowed Asnov to get his first glimps of somethng other than combat, a chance to mend wounds not cause them.  After some years as a Combat Medic he applied for and was accepted by Starfleet Medical, graduating in the top 25% of his class Asnov was now an Ensign Medical Officer, and served proudly on several ships as a medical assistant and Physician's Assistant.  Eventually transfering to the U.S.S. Grant, a Federation Frigate as Gamma Shift CMO at the rank of Lt. Commander.
During his tenyear on the Grant, Asnov was drawn back into the world of combat once more when the Borg resurfaced.  Though eliminated by Admiral Janeway these Borg however were different from those that came before.  As the Grant was assisting other ships the Borg beamed aboard, Asnov's quick thinking and combat training helped him rally the disorganised and confused crewman and officers into a stalwart defense that saved the ship from being over-run and assimilated.  For his efforts he was promited to Captain and given command of the Grant when her current Captain was forced to retire due to injuries recieved during the fight.  Once more thrust into the world of combat he has so desperatly tried to escape from Asnov is a valient leader, well organised, and surprisingly wreckless.  He values sentient life above all things and will not hesitate to sacrifice his own life for that of another.  His utter disregard for his own life has caused confusing in his officers at times but they also understand he gets results in doing so either by sheer skill, dumb luck or the Will of the Prophets.  Who is to say?  Most of his crew will tell you that Asnov is a very friendly person.  Highly approachable and bears a jovial attitude most of the time.  While on duty he is very professional and expects others to be the same though while off duty he is fun loving, social, and prone to practical jokes and humorous situations.  He is always quick to lend a helping hand and will never turn anyone away from him.
During his time as a Doctor and Commander, he was able to gather contacts, well places sourses, gather intel and resourses from all corners of the Federation, and even in the Klingon Empire.  No one but he truely knows the extent of his resorcefulness but it is rumored among his crew that he knows people in every level of the Federation, Klingon, and even Romulan Republic governments, Medical community, Military Establishments, even Black and Shadow Departments.  Some have also claimed he is wealthier than the Grand Nagus, and has a Direct line to the Founders of the Dominion.  But such rumors are ridiculous and dismissed easily.
Currently Ehou Asnov serves as one of to Ambassadors within the ACI's Office of Foreign Affires under the direction of Commodore Rtuza Anoyda (http://aci.wikia.com/wiki/Anoyda,_Rtuza).  The Vessel that ferry's him to his Diplomatic Engagements is a Vesta Class Multi-Mission Support vessel named the U.S.S. Corsican. NCC 92791.